Hello everyone,
 
It's that time of the year again, when the weather starts getting colder, Christmas is coming and smoker fights are being held! Once again Ivey League made the trip up to NJ and once again the fighters made everyone proud by putting on an amazing show of heart, technique and conditioning. Here is the rundown of the fight…
 
Teresa Russin was the first to fight; she fought in a Muay Thai bout. The fight started with Teresa pushing the pace, and anyone that has ever sparred with her knows that she means business when she hits you! Teresa was landing many punches and lots of good leg kicks (her best weapons). This was how it was for all three rounds, Teresa throwing lots of combinations, always moving forward and putting on a show for the crowd. The young lady that Teresa was fighting was also game, and had an "always attacking" style, so it made for a very exciting bout. In the end, Teresa won all three rounds and got the judges decision. Congrats to Ms. Teresa!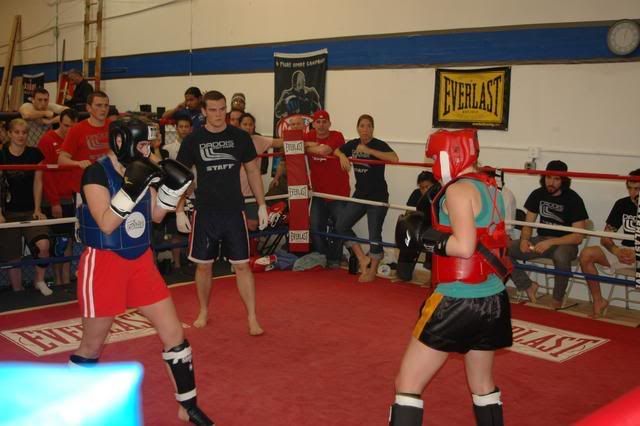 Next up was Danny "Red" Heath. This was Danny's first smoker fight in MMA. Danny was coming off of a Thai Boxing victory from the last smoker fight so we were all very pumped up to see him perform with takedowns and Jiu-Jitsu in the mix. The fight started out more like a brawl and Danny had to weather an early storm. It was back and forth punching for the first
round, and let us tell you, it was a war and Danny showed a lot of heart. The second round was much like the first, lots of boxing and some kicks. Danny scored a takedown at the end of the round and was working his BJJ skills when time ran out. In the third round, Danny was taken down and it was just about all ground fighting with not too much stand up. In the end, Danny lost a decision but gained much more. He learned that MMA is not easy and that you've got to take tough fights in order to get better. Danny will learn from this and come back better than ever!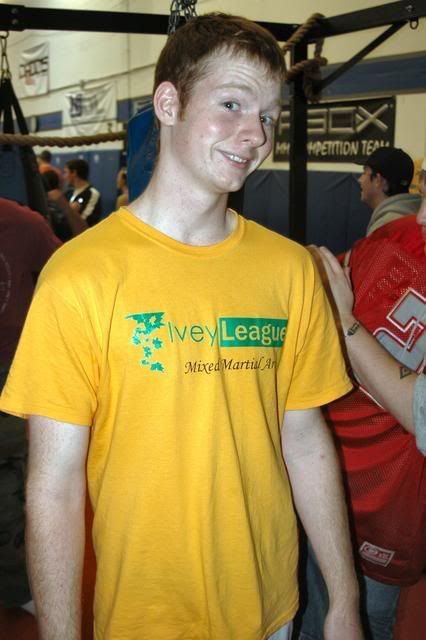 Up next was Matt Brannon. Matt is a raising star in the Annapolis area. He has a fast-paced, hard-nosed style that the fans can't seem to get enough off. The fight started off with Matt throwing some awesome head kicks. His opponent didn't seem to like that too much so he tried to take Matt to the ground, but Matt's good wrestling skills made that tough. Matt stopped the first takedown and they went back to the fight. His opponent tried to take him down again but this time Matt was ready and slapped on a tight guillotine choke from half guard (or as we call it a "JVB" choke). It took only a few seconds and his opponent tapped out. Matt won in 1:25 of the first round by choke.
 
Now, most of the time at events like this a contender gets to fight one time and that's it. Well, Matt wanted more fights so Coach Danny talked to the promoter and indeed got Matt another fight. The only catch was that the opponent was in the next weight class up from Matt at 170LBS. Now since most reading this probably don't know Matt let us fill you in on something, Matt has no fear, he would fight superman if they put him on the other side of the cage.
So here we go, fight 2 for Matt. Matt started off with some headkicks again (shocking right!). He scored an early takedown with an insidetrip. His opponent had good Jiu-Jitsu as seen by his good guard skills. They scrambled back to the feet and the round ended. In the second round, Matt started off with some great combos but was taken down. This opponent was on his toes because he had Matt's back for a moment, but Matt as always is very coachable  and listened to Danny and Jason, he was able to escape and get back to his feet. It was at that point that Matt threw out his brutal right hook and cut his opponent very badly over his eye. The ref looked at the cut and stopped the fight at 1:30 of the second round, declaring Matt the winner by TKO. Awesome job by this superstar in the making!
So now we have the heavyweight fighter for Ivey League, Big Charles Cherry. This was Charles' first MMAÂ  fight, so of course we were all very hyped up to see him in there and the big man did not disappoint! The fight started off with some dirty boxing. Charles looked to take advantage of his great Judo and wrestling skills, so he hit a beautiful "polish" takedown. From the ground, Charles was hitting his opponent's body and attacking his arms for paint brush and kumura holds (submission holds). The first round ended on that note. The second round was more of the same, with some dirty boxing followed immediately with the "polish" throw again as soon as Charles could get his hands on the guy. At about 1:30 into the second round, Charles locked up a Garcia choke. His opponent was giving the thumbs up saying he was ok but that was not the case as Charles put the other big man to sleep! The ref stopped the fight and Big C was declared the winner by Choke/TKO victory. A great debut for this very gifted fighter!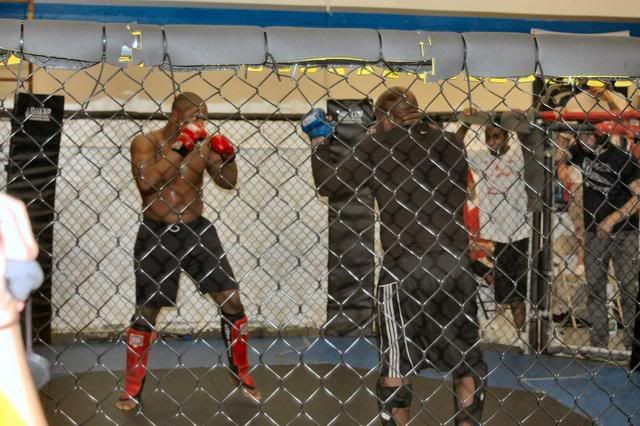 Finally, the last fighter of the day to go was John Foster. John fought in a Muay Thai bout. The fight started with lots of boxing, both on John's part and his opponents'. The two exchanged punches and kicks back and forth for the first round. The second round was pretty much the same, with some more push kicks. John was getting into the old "give one, take one" type of fight and by the end of round, both fighters were exhausted. The third round slowed down a lot and there was more brawling in the corners of the ring. In the end, John lost by Judges Decision, but just like Danny Heath, he'll learn from this and move forward.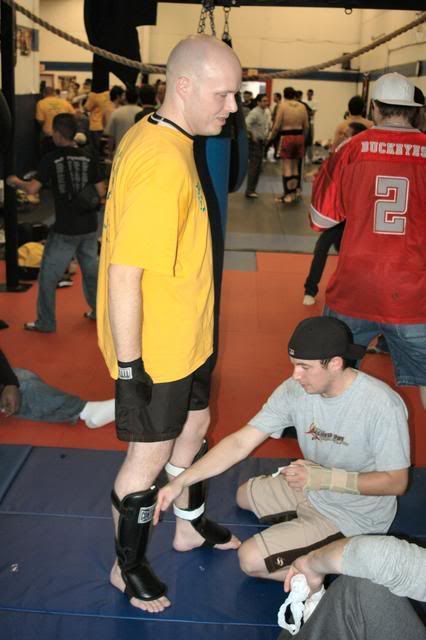 Again, congrats to all the Ivey League fighters and a big Thank You to all the Ivey Leaguers who came out to the fights to support the team!
Speak Your Mind